Picardo Pandemonium!
This was the first Anecdote on the site, sent to me by Tog who had the idea for this page.
One of the funniest things I ever saw in my life, let alone at the drag races, occurred on my first-ever visit to Santa Pod Raceway for the Easter meeting on April 11th 1977. I already knew from Drag Racing News of Ronnie Picardo's reputation as "The Joker" but on this day I got a grandstand view of one of his best-ever performances.
Back in those days, Pro Fuel Dragsters (as they were then called) had to be push-started. Ronnie, in his Fueler "Highway Patrol", was pushed down the fire-up road - which is nowadays the service road alongside the left lane - and the engine barked into life. Ronnie did his burnout, and the engine fell silent as the Fueler cruised to a stop. He had lost fire! The push-car sped down the strip, and as it came up behind the Fueler one of the crew jumped out. This guy perched on the Fueler just in front of the cockpit. He hung onto the roll cage with one hand as the push-car started to push the Fueler, and with the other hand he squirted petrol into the bug-catcher. The engine abruptly fired, the Fueler leapt forward, the crewman fell off, and Ronnie promptly ran him over.
Little did we know that we were in for an encore. The push-car driver was half-sitting half-standing with one leg in the push-car and one leg on the track, and the push-car started to move backwards. As he tried to jump back into the push-car he lost his footing and fell back. As he fell, he accidentally floored the accelerator and grabbed at the steering wheel, which made the the push-car shoot backwards and into a hard-right turn. Consequently it reversed into the crash barrier at full throttle.
All of this took place in a stunned silence, including over the PA which was unusual for the then track announcer Brian Taylor. Ronnie backed up past the push-car, and who knows what was going through his mind as he saw what had happened.
Never one to be beaten by adversity, Ronnie actually went on to put in his run. He ran a 6.5 at about 210-211 mph, and just as it was beginning to look as if things were going OK for him again his parachute failed. A huge cloud of dust could be seen rising from the end of the track as Ronnie performed what was by all accounts a spectacular handbrake turn to bring the car to a halt.
I haven't come across many people who saw this happen but those few who did- like me - remember every moment of it, even if it was twenty one years ago!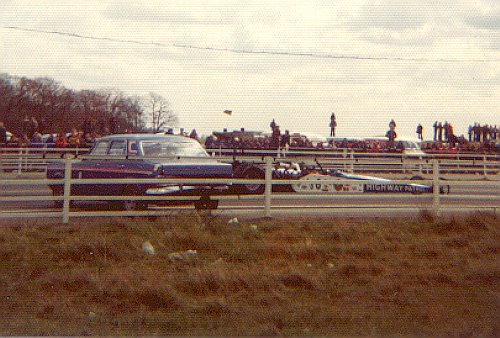 And heres the evidence!
---
He he, thanx Tog, what a great story. It jogged my memory, I recall seeing a crew car reverse into the crash barrier about a third of the way up the strip. We missed all the other events and assumed that the driver was trying to do one of those fancy turn-arounds where you reverse on a lock and throw it into first pulling away forwards on the opposite lock, but now I know the whole story! -Chris