William Peter Dossett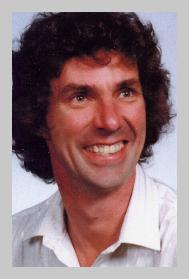 3rd November 1951 - 10th November 2003
On Monday November 10th 2003 Bill was taken from us suddenly, but peacefully, while sleeping at home. He was 52. Those of us that knew him, his family and friends, count ourselves as privileged to have done so. His parting has left a huge gap in our lives and we miss him very much.
It was my big brother Bill's enthusiasm for drag racing that first got me interested as a child. He was also responsible for re-introducing me to it, and kick-starting my search for its past, after a break during the eighties. And so, ultimately, he is the reason that this website is here. Ironically, the last time I saw him was at Santa Pod. He contributed a lot of material to the site in the early days and you will see his name quoted often as the source for many pieces.
His last project, his '34 Ford hot rod, which he built from the ground up on a non-existent budget, remains as a reminder of his remarkable skill, enthusiasm and talent. It is looked after and exhibited by his daughter Nikkie & her husband Paul.
You can still visit Bill's little place on the web, which includes an entertaining account of the building of the '34, via this link;
http://www.stowupland82.freeserve.co.uk