The Ison Brothers 'Wild Honey'
The car was built by George Gillett, Brian Savage and Kevin Fulcher and was originally known as 'George's Draggin as George was the driver. The original 3.4 litre straight six Jaguar motor was recovered from a MK VII in Cyril Tites scrapyard at Lyons Gate near Dorchester in Easter 1965. The Austin Ruby body came from a car that had been sitting in Georges fathers barn for a number of years. The blower was from a two-stroke Commer diesel motor and was of the Rootes type. Kevin worked at Westlands in Somerset at the time (along with a certian Mr Priddle!) and managed to "aquire" a number of components for the car including a fire proof wiring harness, various switches and a large piece of blue plexiglass that was used to fit in the roof in place of the original canvas panel. In its proper use this panel would have been formed into a 'Radome' on a Westland Wessex Mk 8 which was the anti-submarine helicopter in service at the time!
Chris & John Ison were two brothers from Sinfin, Derby, who in the late sixties were in the process of building a V4 powered Pop Altered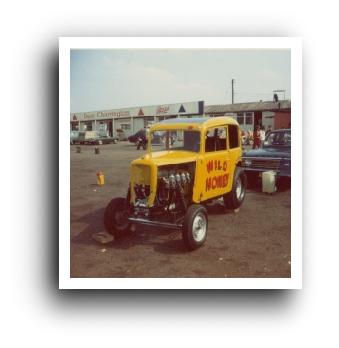 At the end of 1969 George Gillets 'George's Draggin' Austin Ruby came up for sale, after George had wrecked the straight-six 3.4 litre Jaguar motor when the throttle had stuck open. The thought of having a near complete car that would be much more competitive than their current project appealed to Chris & John. Not having the cash available the Brothers acquired some finance and travelled down to Somerset to purchase the car.
On getting it home the rebuild began. The pistons and bearings had suffered the most and they described the operation as being like completing an Airfix kit without the instructions. The motor, blower and clutch were all completely stripped and rebuilt. A new paintjob was applied and the car was out on the track for the Easter 1970 meet at Santa Pod.
With it's narrowed rear axle, un-conventional, weight transferring, jacked up front end, bright yellow paint and blue plexiglass roof, the car was one of the most distinctive of its time, standing out from the many Ford Pop Altereds that were its contemporaries. On its first outings it ran consistent 14.5 second passes at around 90mph with Chris behind the wheel.
The car found immortality as one of the vehicles chosen by toy makers Corgi as part of their 'Whizzwheels' collection.
Wild Honey specification as of Easter 1970
| | |
| --- | --- |
| Engine | 3.4 litre straight six from a Mk VII Jaguar. Balanced with short skirted pistons, polished head, lightened flywheel with starter ring gear removed. Running on methanol. |
| Carburetors | Four 1 3/4in SUs. |
| Ignition | Stock Jaguar with Autolite AG603 spark plugs. |
| Blower | Wade, driven by four V-belts. |
| Fuel Pump | Fed by fuel tank pressure, pumped up to 10psi before a run and primed by driver on start line. |
| Fuel Tank | Front mounted, spun aluminium Moon |
| Transmission | Stock Jaguar |
| Clutch | Borg & Beck |
| Rear Axle | Jaguar 4.7-to-1, narrowed with two universal joints acting as a propshaft. |
| Front Axle | Chromed with tie bars, Ford 100E hubs. Coil springs mounted over shock absorbers. |
| Chassis | Ladder frame with integral roll cage. Ford 100E steering box. |
| Brakes | Rear-Jaguar drums, front-Ford drums. |
| Front Wheels/tyres | Ford 100E wheels with G8 Goodyear tyres. |
| Rear Wheels/tyres | Jaguar, slightly narrower than stock. 5.50M Dunlop Racing tyres. |
| Body | All steel Austin Ruby, sheet aluminium floor and firewall, trimmed with black pvc quilt. Blue perspex windows and roof light. |
| Paint | Lemon Chrome with red shadow wording. |