Dennis sold the car to the 'Panic' team of the well known Page family, Clive,Gary, Dave, and enthusiastic mother Iris. The team were feared opponents throughout the 70's with the 'Panic' cars, running first a topolino altered which crashed heavily, but better known for there very successful Senior /Pro Comp model T altered.
The Pages bought the car from Dennis complete minus the motor, intending to buy a new motor from the states for the car. But the period between buying the funny (as the 'T' still hadn't been sold) plus the astronomical cost of all the transatlantic phone calls and shipping trying to get a new motor together, slowed the project down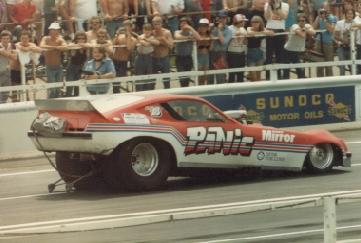 considerably. The team decided that to get the car back on the track at all, a motor was going to have to be sought in the UK. The team returned to Dennis Priddle, and another deal was done for Dennis to put a motor together for the car.
The team had hoped to debut the car during 81, but the woes with the motor and cash flow meant the Monza finally made it back out in it's good looking 'Panic' colours at the Easter 82 meeting at the Pod.
The car was repainted white with the 'Panic' logo in the in-vogue (at the time) chrome/reflection technique for the 1985 season.
Bob Jarrett was behind the butterfly at the World Finals meeting in 85 and beat all comers to take the FC crown. The Nitro rookie showed his qualifying 6.73/207 was no fluke beating Tony Boden with a 6.86/202, then 'Cannonball' with a 7.01/201, (pulling the chutes really late on both runs), then beating Harlan Thompson in the final with a 7.05/202.
The car was really showing it's age up against the new longer chassied cars with aero bodies by 87. The team were still competitive though, and ran their quickest ever time with Gary Page at the wheel at the 87 World finals, If the motor hadn't started to go away towards the top end the 6.34/214 would of been quicker! That run was the last time the Monza ran on Nitro, the car being sold by the team after the meeting.
Photo by Bill Dossett