Story compiled and contributed by Jeremy Cookson
Before the advent of the Funny Car in British drag racing the Fuel Altered's proved to be a major crowd
puller in the seventies over the Top Fuellers at Santa Pod, Silverstone and Blackbushe. Racing legends such as Phil Elson's 'Sneaky T', Freddie Whittle's 'Shutdown' and Kevin Pilling's 'Pure 7' certainly knew how to entertain. But the most famous of all was 'Tee Rat' owned and raced by the Stone's family; Dennis and son Dave.
The Dagenham based Stone's Drag Racing Team was one of the country's most ambitious teams fielding some pretty potent machinery in classes known as Top Dragster and Top Street. Their ability to produce top class winning hardware that both looked good and ran hard, earned the team more than a little reverence from the competition and fans who supported them.
Like a lot of open wheel race cars, Tee Rat started life as a pile of tubing on Roland Pratt's (of "Hillbillies" fame) garage floor. A few days later that same pile of tubes emerged as a 110 inch wheelbase chassis. In fact, the whole package took just six months to piece together from the ground upwards.
Motive power came from a 427 cubic inch big block Chevy kitted out with Donovan heads producing something like 1400 bhp on 65% nitro. Sitting on top was a 6/71 blower bolted to a Weiand manifold and fed via a Crower fuel injection system. A Donovan scattershield protected Dave from any eventualities from the 2-speed transmission. The Oldsmobile rear end had Summers Bros half-shafts turned American Racing Wheels wrapped in wrinkle wall Goodyear tires. Front wheels were also American Racing Products shod with Avon rubber bands. The Model T's body finish came courtesy of the 'Rallyfleck' range of spray paints called "Sea Spray Blue", and was applied by the team themselves.
Although Dennis and Dave financed most of the racing side themselves, helping them along for the ride in product support were Castrol and GUD Filters, at the time two of British drag racing's biggest supporters.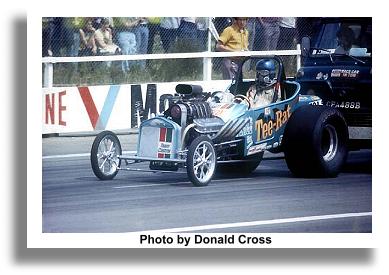 In its heyday, Tee Rat and wheelman Dave, enjoyed many classic encounters with rivals Shutdown and Sneaky T but never managed to crack the 200 mph barrier. Dave's best time in a straight line (!) was 7.56 seconds at 198mph set at Santa Pod's International meets in 1974 and 1975 before disappearing from the tracks....until now.
When British web site eurodragster.com broke the news of Tee Rats impending return to the UK tracks in the not too distant future, the amount of information and parts found by I.C.E. Automotive's Rob Loaring and business partner Nick Davies has been overwhelming.
Nick, a former European Pro Mod champion, takes up the story. "Like many racers, we have long held a desire to run a blown-nitro race car. We weren't willing to build a car which we couldn't afford to test, which restricted the choice somewhat. This way we get our chance to go our own way at a speed which suits us," he said
Authenticity was a key criterion in the project, and has the full backing of Dennis and Dave Stone. "We are very grateful to Dennis and Dave for their support and encouragement. Their help will ensure that the car is as close as possible to the original, within the confines of current safety regulations. The only exception is that, at Dave's behest, we have added a wing as the original car was somewhat lively through the top end!"
Thanks to the news pages of eurodragster.com the dynamic duo asked if anyone knew of the whereabouts of the cars original Crower eight-hole injector and scoop. Within days the I.C.E. hot line never stopped ringing with information and the location of the original injector courtesy of nostalgia racer Chris Round. Another find is Tee Rat's original body. "We were stunned to learn that our friends from F.A.S.T (Fire & Accident Safety Teams who operate from Shakespeare County Raceway) and in particular Jim and Tony Usher, responded to the challenge by locating the original body still stickered and sign-written, which could prove to be a tremendous reference tool.
"On the driving side, a weekend in the hot seat of the Super Comp altered of John McIntyre's 'Mac's Rat' in the summer at SCR was both educational as well as great fun. Anyone who thinks that an un-sprung car is the same ride as one with conventional suspension should think again!" concluded Nick.
Although much of the build up work will be done during the winter months, the team plan to debut the altered around May time hopefully at Shakespeare County Raceway - the home of UK nostalgia drag racing. We'll keep you posted.
Story compiled by Jeremy Cookson
Shakespeare County Raceway Press Officer & Drag Racing Historian
Photos by the credited photographers and by courtesy of Jon Spoard at www.ukdrn.co.uk