Ian Richardson's 'Moonraker'
Text & Photos by Mal Hawkins
'Moonraker' first appeared in the press in the National papers in early '67 when still under final construction.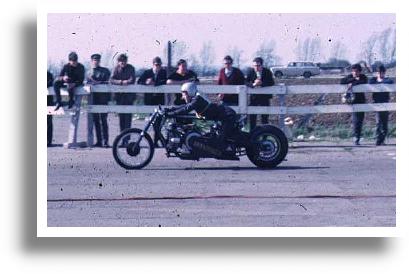 Ian Richardson, the owner/builder predicting it would be the first machine in the U.K. to top 200 m.p.h. Alas it wasn't, however, 'Moonraker' was an inovative and spectacular machine.
Ian split with drag bike convention of the time and adopted a 2-litre flat four Butterworth as a power plant. Butterworth were a Midlands-based engineering firm specialising in engines and components for the formula circuit racing boys. This particular engine used the cylinder barrels of four 500 c.c. Manx Norton motorcycle engines mounted in a flat four configuration on a Butterworth crankcase. These were topped off with Butterworth's D.O.H.C. assembly in place of the original Norton pushrods.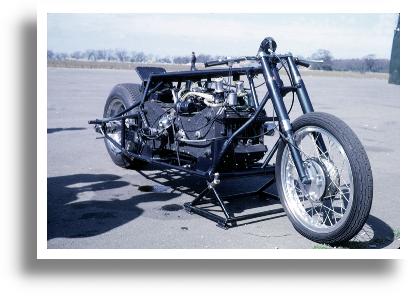 To keep this beast fed four huge Amal G.P. carbs were fitted and these were supplied by straight methanol from twin S.U. electric fuel pumps. Transmission was via an AMC gearbox, although I don't think Ian used any more than two gears on a run.
Apart from the unusual engine 'Moonraker" was also the first bike in the U.K. to utilise a wide rear tyre. Although not a slick, a Dunlop racing tyre and wide rim were laced to Ian's custom built rear hub. Everyone else at the time was running the obligatory 4" Avon slick except for the two V-8 car-engined bikes that were using standard road car tyres at the back.
'Moonraker' unfortunately never reached it's full potential as it was plagued by fuel starvation and somewhat heavy. Supercharging and fuel injection would have solved that and, if fitted, would have turned 'Moonraker' into a truly unbeatable machine both in the U.K. and overseas. Despite this 'Moonraker' still achieved wins in the unlimited class running 119.33 m.p.h in 11.779 seconds.
'Moonraker' Spec Sheet
| | |
| --- | --- |
| Engine | 2-litre Butterworth flat four |
| Cylinders | 500 c.c. Manx Norton |
| Carburretors | Amal GP |
| Fuel pump | Twin S.U. electric |
| Transmission | Chain drive. AMC gearbox |
| Chassis | Chrome-moly tube fabricated by Ian Richardson |
| Front suspension | Matchless hydraulic forks |
| Tyres: Front | Dunlop motorcylcle road racing mounted on Borrani alloy rim |
| Tyres: Rear | Dunlop R7 low profile car racing mounted on Dunlop alloy rim |
| Paint | Metallic midnight blue |