This section of the site is for visitors to help others locate old friends, cars or bikes that have been part of the UK Drag Racing scene over the years. If you can help with any of the requests below please use the e mail link provided with the request. If you have a request of your own please click here to mail us and we will add it to the list. Please let me know if you do not want your email addres printed with your request.
Dave Woodgate & "De Judge"
(Added 31.10.21)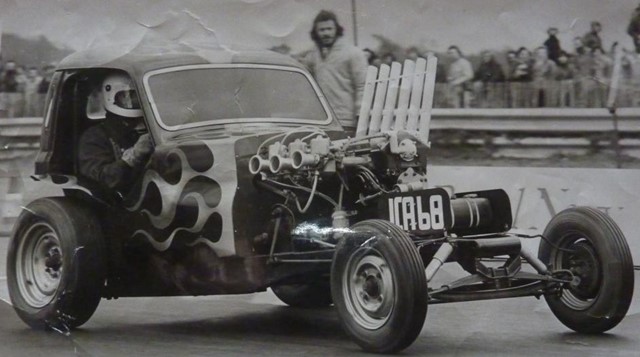 I need some help filling in some missing years for this particular car. Does anyone out there know what happened to "De Judge", the Jaguar powered Altered campaigned by Nick Newton in 1975? The car was advertised for sale by someone called Dave Woodgate in 1978. The phone number given in the advert was for the Mann Egerton dealership in Derby. Does anyone know Dave or what became of the car in the years after that? Photo supplied by Nick Newton.
Contact Trakbytes directly with any information here chris@trakbytes.co.uk
Help Finding Mick Collingham Photos
(Added 11/8/21)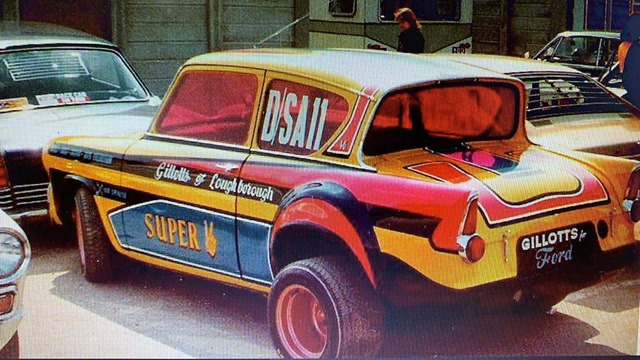 "I am trying to find pictures of my partner's dad from the 1970's. His name is Mick Collingham. I have attached a photo, the only one we have. My partner remembers being at Santa Pod when he was around 6 years old and in fact we returned to the track for the first time since on Sunday. Any help would be hugely appreciated. "

You can contact Jaime Louise directly here <jaimelouise29@yahoo.com>
Help Finding Geronimo Crew Members
(Added 18.1.14)
I have had a request from Mick Tickner who is trying to contact some members of his "Geronimo" crew. Their names are Colin Calverley and Dave Giddings. If you know of the whereabouts of either of these gents, or if indeed you are one of them, you can get in touch through this website or;
Contact Mick directly here
Info on "Hobbs Built" Triumph Engine
(Added 14.6.13)
I have a triumph Matisse that apparently has a Hobbs built engine which I am trying to obtain details of. Do you know if this is the same chap who ran the" hobbit" or was there another triumph engine builder with the same surname? I believe he used to live in the south of England somewhere. Any information would be useful as I live in jersey, Channel Islands. Regards, Mick
Contact Mick directly here
Info on "Twiggy" nitro drag bike
(Added 24.3.13)
Hello,Presently doing research on a BSA nitro drag bike, called Twiggy, circa 1960's-70's.. Loaded with Alf Hagon parts and pieces.. I'm assuming it ran in the states, but maybe not?? I can send pictures-Thanks, Brian, USA
Click the pictures for a larger view. Contact Brian directly here
Long Lost Video, "Quarter Milers - The Inside Story"
(Added 17.05.06)
British drag racing historian Jerry Cookson is looking for a video copy of eighties film 'Quarter Milers - The Inside Story'.
"Marketed through Street Machine magazine, the film was a behind the scenes look at British drag racing, and was written and co-produced by Dick Griffiths of Stirling Video and Street Machine's features editor and former racer Tony Beadle," says Jerry.
"The film compares a 200 mph Top Alcohol Dragster with a 10 second self built C/Dragster. The sixty minute production also looked at the Rover V8 series as well as the Street Racer Championships at York with in-car footage, workshop visits, pre-race preparation and fire burnouts."
If you have such a copy in your video collection and you're prepared to let Jerry borrow it, or you can get it re-recorded, then get in touch at quartermilenewsmakers@yahoo.co.uk.
Pictures or movies of a blue '32 Ford
(Added 16.05.06)
name = Brian Webster
replyemail = <email reply here>
comments = Hi I was a regular spectator in the early years of Santa Pod, One meeting I went to, I think it would be in 69/70 I drove there in my lagoon blue 32 Ford 5 window coupe, There was me & my brother & two other guy`s in the rumble seat. We were surounded by lot`s of people taking home movies & photo`s, I would love to see any of these copies because I had forgot to take my camera to that meet & regreted it eversince. The reg was OY 9907 the car is now in California............Cheer`s Brian
Info On Jets And Rockets
(Added 07.01.06)
name = Ray Challis
replyemail = <email reply here>
comments = I am trying to find information and pictures of early jets and rockets at the pod and elsewhere in the UK.
Examples are
Ron Picardo – Force jet car – with le mans body and 2CV body
Sammy Miller – jet car
Henk Vink – Rocket bike – what happened to it?
Barry Bowles – Blonde bombshell rocket car
Arnold Sundqvisk – Silver streak jet car
Any information on these or other jets / rockets would be much appreciated!
Ex-Thompson/Hover Funy Car?
(Added 02.01.06)
name = Esta & Trevor Capewell
replyemail = <email reply here>
comments = Does anyone know who now owns the ex-Thompson/Hoover fuel funny car last owned by Tony Betts. Maybe a phone number?
Keith Sales' SS Draguar
(Added 12.05.04)
name = Jonathan Suckling
replyemail = js@wilkinsbeaumontsuckling.co.uk
comments = Does anyone have any information or photo's of Keith Sales' SS Draguar, which I believe was a Mk 2 Jaguar into which someone (Keith?) shoehorned a big block Chevy? Keith won Class C in Modified Production at the second '68 Drag Meet at the Pod. That's all I know about it.
African Raider, 1974?
(Added 24.04.04)
name = Charlie Beckett
replyemail = alliemum@hotmail.com
comments = If anyone has any pictures or info on FP3 African Raider, Ford Corsair in Street class, racing during 1974 please let me know.
Old UK Funnies?
(Added 07.04.04)
name = Mike Kason
replyemail = fatsams@hotmail.com
comments = I am looking for any old UK funny cars complete or parts especially bodys or old UK Top Fuelers Please call me on 07889 733833
Wilf Barry info
(Added 07.04.04)
name = Mark Barry
replyemail = mark_barry_uk@hotmail.com
comments = Hi, My dad used to race drag bikes in the 70's His name was Wilf Barry - "Senna Pod" - trying to find facts photos etc and if possible the bike !!! Cheers
Comp Altered CA/169
(Added 24.03.04)
name = nick dee
replyemail = nickdee@hillclose.fsnet.co.uk
comments = any info or pictures of comp altered CA/169 model T with Chrysler 318?
Tokyo Tart Dragbike
(Added 13.03.04)
name = Nick Saunders
replyemail = nicholasjohnsaunders@hotmail.com
comments = Can anyone help, i'm trying to locate any pics/video of a bike in the 93 & 94 seasons. Its a competition bike named Tokyo Tart. Any help would be great.
Tim Cook's 55 Chevy & 55 Sedan
(Added 24.02.04)
name = Ian Charles
replyemail = ian@just-us-autoparts.com
comments = Any info & pictures regarding Tim Cook's 55 chevy & the 55 rhd sedan delivery that used to race in the very late seventies & early eighty's. I believe we have found the 55 sedan delivery & require any history concerning this vehicle. Regards Ian
'73 Internationals Film
(Added 24.02.04)
name = Brian Taylor
replyemail = brian@pram.org
comments = Would love to track down a copy of the film made about the 1973 Internationals at Santa Pod. The one where Tony Nancy had a bust up with Stu Bradbury. I did the voice over for it and would love to obtain a copy.
Richard Dawson / Pubcrawler Info
(Added 08.02.04)
name = sid wb147
replyemail = sidsheena@hotmail.com
comments = any info on my slingshot now called "destiny" but originaly "pubcrawler" which was last run by richard dawson who i would love to chat with about getting the car back to its high nines.....car can be seen on wild bunch website thanx sid
Bill Marshall
(Added 17.1.04)
name = nigel fox
replyemail = n.fox@kliklok-woodman-int.com
comments = Trying to locate Bill Marshal-he built and raced a special BRM powered purlple Lotus Elan in the early 70,s.
I now have it and am restoring .Any info or photos would be appreciated .
Thanks in advance
Anthony/Nigel Porter Info
(Updated 13.1.04)
name = Tracy Porter
replyemail = tracyporter69@hotmail.com
comments = Hi- My Dad used to race the bikes in the 70's. His name is Nigel Porter, otherwise known as Anthony Porter. I know he did alright at it, but I am looking for any photos of him, or anything that included him, as a surprise for him. He was racing in the late 70's, on a triumph 499s "A K Special". His number was EC 190 and he was known as Tony Porter.
If anyone has anything, please e-mail me at tracyporter69@hotmail.com, it would be really appreciated!! Thanks!!
Team Minority Morris Minors?
(added 1.1.04)
name = Ryan Jackman
replyemail = ryan@shadowlady.com
comments = I,m trying to find some pictures of the cars run by a team called Minority at Santa Pod.They raced during the early to mid part of the 70s.My dad and his friends used to drag two green morris minors.I'll be very grateful if any one can help me out.
Ericson & Willard F/X?
(added 1.1.04)
name = Gale Scarborough
replyemail = gbs2@cox.net
comments = I am trying to find a picture of ERICSON AND WILLARD F/X FUNNY CAR ABOUT 1965. They were from Wichita, Kansas
Baracuda Slingshot History?
(added 1.1.04)
name = Herman Zijlstra
replyemail = hermanzijlstra@hotmail.com
comments = We bought this year a Slingshot called Baracuda. It was built in England and sold to Germany in 1980 at that time it was powered by a Volvo B20 engine and a Borg warner automatic gearbox the rear axle should be from a sherpa. We are looking for the history of this car. Any information is welkom. Pictures on our webpage: http://home.wanadoo.nl/hermanus
Thanks already
Herman and Sven
John Woolfe or Hustler Team Members?
(added 1.1.04)
name = Ken "Tex"Blake
replyemail = NBlake454@aol.com
comments = Anyone from the old Hustler or John Woole Racing Teams in the late 60s. Are anyone who remembers those guys.
The Optimist
(added 21.11.03)
name = Brian Mondey
replyemail = brianmondey@aol.com
Comments = Is there any one with any info on my old cars, are they still in one piece? they were all competition alterds called OPTIMIST (1971-1981) cheers! Brian Mondey
Tony Boden
(added 8.11.03)
name = Farris Davis
replyemail = farrisdavis@hotmail.com
comments = Looking for any information on Tony Boden, Pictures etc.
The 'Neon Star' Mustang
(added 8.11.03)
name = jamie
replyemail = jamieking@fsmail.net
comments = looking for any pictures or video of neon star [69 mustang driven by graham barrs]
Colin Calverley & David Giddings
(added 8.11.03)
name = Mick Tickner
replyemail = michael.j.tickner@jpl.nasa.gov
comments = Looking to find old Geronimo crew members:
Colin Calverley and David Giddings
Kawasaki Dragbike FB 43
(Added 10.03)
I am trying to find out about any info on this (possibly fuel bike) the number on it is FB 43 and the name on the tank side is NCK Racing. It also has a sticker on the frame saying ORIENT EXPRESS RACING USA. Its colour is blue with graphics on the tank and sides. The engine is a Z 1000cc Kawaski motor with air shifter. I would be very greatfull for any info as I have the bike but no history on it. Thanks for your help. RICH
Reply email rich_and_joan@hotmail.com
Drag 'N' Fly
(Added 05.06.03)
I bought the original car car from John Whitmore ran it with little success but would love to know where it ended up!
Reply email marochaze@yaho.fr
Keith Lee's 'Mutant' Lambretta
(Added 15.05.03)
From Phil Brown
Information and history sought on the ex Keith Lee Triumph powered Lambretta scooter "The Mutant". I am already in contact with Robin Read, but I would like to contact Keith Lee in particular. Also any jpeg images that can be e-mailed, quoting the source/copyright of the image would be great!!
reply email = goonatic@beeb.net
Mid '70s Bike Photos
(Added 25.4.03)
Has anybody got photos of ES156 STREETBIKE FROM MID 1970S?
Phil Steele
reply email = philsteele8000@hotmail.com
Roy Lewis
(Added 25.4.03)
If anyone is in contact with Roy Lewis, ex driber of 'Ot Rod sling shot Modified, please give me a phone number to contact him.
Steve Wallace
reply email = Steve_w31@hotmail.com
Early '70s Bike Photos
(Added 4.4.03)
Does anyone please have any photos of me racing at Santa Pod in the early 70's, bike numbers GCS21 (Honda), and DSS188 (BSA)?
Peter White
replyemail = pgw@goldserve.net
1974 Cortina Photos
(Added 4.4.03)
Anyone got any photos of the Cortina GT I campaigned as HP26 during the NDRC /RAC championship season of 1974?
Trevor Colebrook
replyemail = trevorcolebrook@compuserve.com
Old Fuelers In Hiding
(Added 4.4.03)
We've been spectating for 34 years & wonder where all those old top (pro) fuellers are at this time. Some of them must be in lock-ups, sheds etc. Don't be shy, tell us whay you've got. We're talking UK Drag Racing history. Love to hear from you.
Steve & Donna Robson
replyemail = s.p.robson@tesco.net
Dick Dyke
(Added 25.2.03)
Anyone know a Dick Dyke? (real name!). lived in leeds (kent), used to run the stones fan club way back when. wife was sue i think. i owe him some money.....
Steve
Graham Peake (Plum Tuckered)
I'm trying to get some information on Graham Peake. I believe he used to be a friend of mine, but we lost contact over 25 years ago. I would be grateful if you could send any information, place of birth dob siblings names etc so that I may work out if it is my old friend or not. I found Graham's name on the page of NDRC Nationals, Long Marston, Aug 25-27 1984 driving 'Plum Tuckered'. If it is the Graham I used to know I remember he had a brother called MAX and I believe his mother was IVY. He lived in Chatham, Kent. He would have be born around the late 50's (59/60) so would be early 40's now.
Jackie Barton jaxbarton@hotmail.com
If anyone can help Jackie with identifying wether this is the Graham Peake she used to know, and where he may be now, please contact her using the e mail link above.
Tony Dicksons 1964 GTO
Hi Chris,
I found your excellent site recently whilst surfing & looking for anything connected with Tony's 1964 GTO. I recently purchased it from his brother John, who told me that Tony bought it from a guy called Cliff Jones sometime in the late 60's. I was told that Cliff imported it new, and raced it, as did Tony.
When I took the car home, John told me that it had been parked up with Tony's other cars for around 20 years. However I did get it running in an hour or so. I thought it sounded amazingly loud-until I discovered that the headers had completely rusted through! If you can give me any further information regarding the car, or its owners (or know anybody else who may be able to assist) I would be most grateful. I would also like to see any photos that people may have of the car.
By the way, I suppose you don't know anybody with a complete tri-power set up for sale to fit the GTO, do you?
Paul PaulETowell@aol.com
Drag Racing Bucklers
Dear Chris,
If you ever see any Buckler based specials in old programmes or results, would you please remember me? One car that I believe competed at Santa Pod, was a Buckler DD2 (normally designed for up to 2 litres) fitted with a Daimler Dart V8 engine. I saw that car being built at the Buckler works, when I was a teenager circa 1957-1961. That car was first owned by a Mr. Burgess. So you could also look for a Burgess but it may have been a subsequent owner. The trouble with Bucklers is that they were not always listed as Bucklers, as, being a bit of a Special, they often had odd names e.g. The Burdmonk and The Turfsmoker etc. I am also interested in anything with a Buckler made space frame chassis, from Gordon Parker's twin supercharged 3.4 litre "Jaguara" (a contender for Drag racing I would think) to the very first Brabham single seaters.
Many thanks for your help. By the way, all Bucklers were of tubular space frame construction, so any unidentified space frames, would also be of interest. I enclose a photo of the type of chassis used in the Daimler V8 project, although the one shown is fitted with a 1 litre Ford.
Cheers,
Malcolm Buckler <http://groups.msn.com/BucklerCars>
So does anyone have any memories of a Buckler or Buckler based car appearing at a Drag Race? Anbody with any information that may be of interest to Malcolm can contact him through his website
(Home) (Whats New) (History Index) (Landmarks) (Hall Of Fame) (Photo Archive) (Vehicle Files) (Help Us find...) (Annecdotes) (Snippets) (Draglinks) (Questions) (Cannonball) (BHRA Pioneers) (Pre 1960) (1960-1964) (1965-1969) (1970-1974) (1975-1979) (1980-1984) (1985-1989) (1990-1994) (1995-1999) (2000 and beyond)